A student-led march saw thousands of people protesting on Brisbane streets on Saturday, calling on federal politicians to take a stand against Adani's planned central Queensland coal mine.
The March for our Future was sparked when Adani announced last month it would self-fund its mine and start work before Christmas.
The coal project is being downsized from a 60-million-tonnes a year, $16.5 billion mega-mine to a more manageable 10-to-15 million tonnes a year costing about $2 billion.
"No longer will we sit back and be lectured to by people who are outdated and out of touch," speaker Thomas Cullen told hundreds of protesters gathered in Brisbane.
The 17-year-old was one of the thousands of students criticised by Prime Minister Scott Morrison for skipping school to stage national strikes calling for immediate action on climate change just more than a week ago.
He travelled to Canberra this week for a sit in on the marble floors of Parliament to confront Mr Morrison over the issue.
"We are preparing to show our leaders that we will not stand for their inaction," he added.
"We will strike until our leaders shape up and act."
Australian Youth Climate Coalition member Millie Anthony said she was amazed to see the turnout in Brisbane.
"We are calling for politicians to take serious climate action and the first step to this is stopping new coal and stopping Adani," she said.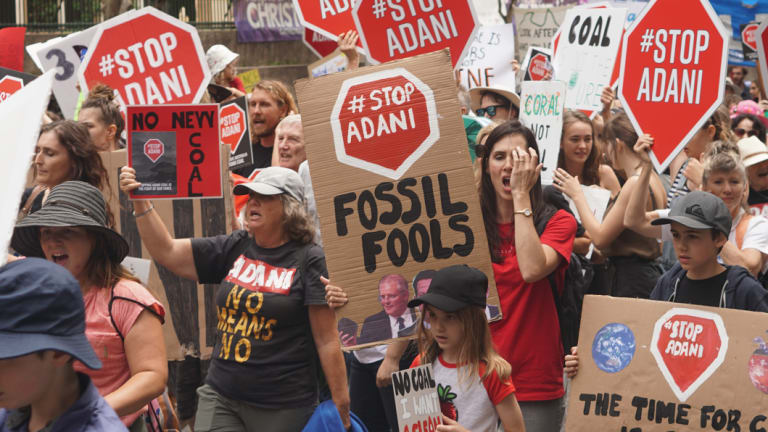 "It fills me with hope to have the people power to send out our message and the community is sharing the same views and saying enough is enough.
An Adani Mining spokeswoman said the company recognised there were varied opinions about the Carmichael project.
"The great thing about living in a democracy is that we can hold and express our different views," she said.
"All we ask is that people's opinions are based on facts and that they don't put lives at risk through irresponsible, illegal and unsafe protest behavior."
"We recognize there are varied opinions about the Carmichael Project and encourage everyone to voice them safely and respectfully, and also to visit www.adaniaustralia.com to learn the facts."
The march comes as national ReachTel polling results revealed widespread support for students demanding the government to address climate change.
The poll surveyed 2345 Australians on Tuesday after the Student Strike for Climate Action last week, when more than 400 students ditched school to protest.
The Australian Youth Climate Coalition said the findings showed 62.7 per cent, including almost nine in 10 Labor voters, agreed school students had a right to demand the Morrison government to act on dangerous climate change.
Results also showed 58.1 per cent people, including 80.7 per cent of Labor voters, agreed the federal Labor Opposition should show leadership on climate change and oppose Adani's coal mine.
"This new poll shows Australians support the students' actions and that the Prime Minister's attacks on the kids are mean-spirited and out-of-step with public opinion," Australian Youth Climate Coalition national director Gemma Borgo-Caratti said.
"The poll also puts Bill Shorten on notice that a clear majority of Australians, and the vast majority of Labor voters want him to act to stop the Adani mine.
"Labor voters want strong leadership on climate change, not a would-be Prime Minister who says the Adani coal mine would make no difference to carbon emissions."
Queensland Greens MP Michael Berkman, who attended the first protest with his daughter, said climate change profoundly affected young people.
"It's their future being threatened by governments at all levels, and both major parties are failing to take meaningful action," he said.
"Kids are not given a voice in the process at all. Today is important, not just to send a message but also so they learn how to have a voice."
Premier Annastacia Palaszczuk said the federal government needed to have a climate policy.
"I believe that every single candidate standing in the next election needs to say whether or not they believe in climate change," she told ABC News.
Do you like this post?