More than 400 students as young as seven skipped school and took to Brisbane's streets on Friday, demanding action on climate change.
A hoard of teenagers converged on Queensland Parliament House with passion and posters to send a clear message to the country's decision makers - take climate change more seriously.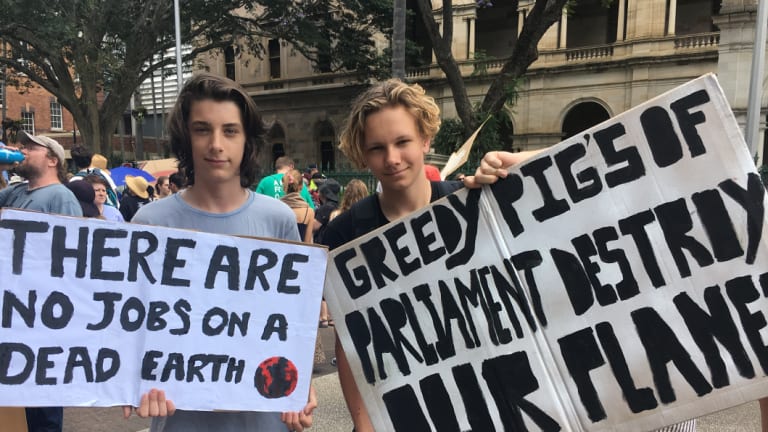 Parliament House security kept a close eye on the students as they marched past the building chanting "stop Adani".
Kodie Witte,15, travelled more than an hour from Cleveland to protest.
"I am here to support climate change action and stop evil corporations destroying our planet," Mr Witte said.
His classmate Reuben Collett said his parents "fully supported" his decision to ditch school and join the march.
"If the politicians came down here, I would tell them to focus on this issue, which is way more important than the other things they have been focusing on," Mr Collett said.
Activists as young as seven fronted up to have their say.
"I am here to save the planet and tell (Prime Minister) Scott Morrison he should go to school because he is naughty and he can learn how to save our resources," seven-year-old Arwyn Feehely said.
On Monday, Mr Morrison said he did not support "the idea of kids not going to school, to participate in things that can be dealt with outside of school".
"We do not support our schools being turned into parliaments," he said.
But Queensland Greens MP Michael Berkman, who attended the protest with his daughter children attending had learned a valuable lesson about engaging with policy.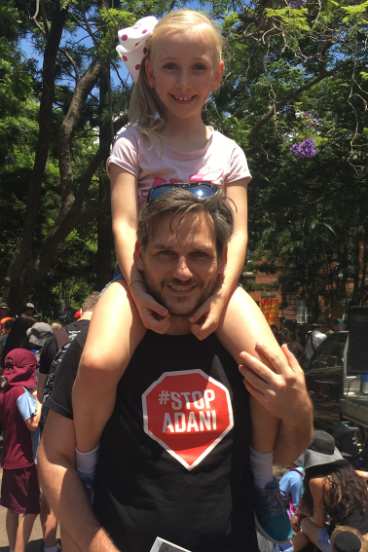 "Kids are not given a voice in the process at all. Today is important, not just to send a message but also so they learn how to have a voice," Mr Berkman said.
"Climate change profoundly affects young people. It's their future being threatened by governments at all levels, and both major parties are failing to take meaningful action."
Premier Annastacia Palaszczuk said the federal government needed to have a climate policy.
"I believe that every single candidate standing in the next election needs to say whether or not they believe in climate change," she told ABC News.
"I'm the Premier of Queensland. I see more cyclones. I'm seeing massive heatwaves and we do not have a federal policy when it comes to climate change."
About 30 protests were held across the country on Friday, with thousands of students taking up the cause.
Resources minister Matt Canavan said he wanted kids in school learning about how to build mines, and drill for oil and gas "which is one of the most remarkable science exploits in the world".
"These are the type of things that excite young children and we should be great at as a nation," he told Sydney radio station 2GB on Friday.
"Taking off school and protesting? You don't learn anything from that.
"The best thing you'll learn about going to a protest is how to join the dole queue."
Do you like this post?